---
---
The great thing about kitchens is that almost all of the dimensions used during the design process are standard. Over the years, kitchens have evolved from the old-style 'built-in' versions to the modern modular version or Euro style. My house, built in the early '50s had a built-in kitchen. There were no standards used at all. These days, it's completely different.
Unless you change things during the design process, the countertop will be 36″ above the floor, there will be an 18″ gap between the counter and the bottom of the cabinet and your cupboards will be 30″ high. Above your cabinets there will be empty space, usually, for display or to simply gather dust.
Why not have the cabinets go all the way to the ceiling? Counting backwards from 96″, you would subtract 42+18+36 which leaves, of course, 0″. Most ceilings are 97″, at least mine is, which would leave a thin 1″ gap which is perfect for a filler strip. You could also drop the cupboards and inch to 17″, leaving 2″ for a furring strip which would be scribed to the ceiling. (Your ceiling may or may not be perfectly level so while the cabinets are hung level, the strip makes up for any discrepancies. )
If you think that the 42″ cabinetes are way too high, keep in mind that you would have a full 12″ of extra storage space, even if you require a small stool to reach it. This space is perfect for the fine china and items that you don't use every day.
Alternatives to this design include stepped or staggered cabinets. Some might go all the way to the ceiling, others might not. If you have display plates or antiques, you can put in a design rail across the top of the lower cabinets and put your fancy items there. The 42″ design also allows for undermount microwaves which would leave a greater distance underneath but leaving a almost a full cabinet on top.
Staggering the cabinets increases your storage room and gives you a greater range in design. For the small price increase, you should consider it.
TIP:  Kitchen ceilings often have a bulkhead extending down to the top of the cabinets. Quite often this space is completely empty and the bulkhead can be removed. If there are pipes and vents inside, the design can be altered in some areas which allows for full-height cabinets in come areas, shorter ones in others. If you are changing your kitchen layout and you have a bulkhead, remember to include it in the design. It might have to be changed, removed or extended. Don't lock yourself in to just replacing your cabinets, change your design while you're at it. You won't regret it.
TIP 2: If your ceiling is higher than eight feet, you may still have room for displays at the top. It's a good idea to seal that area in, however, unless you love cleaning up high or you live in a dustless house.
Thanks for reading!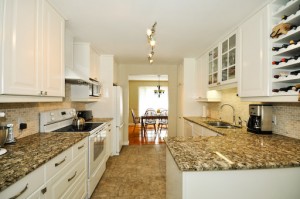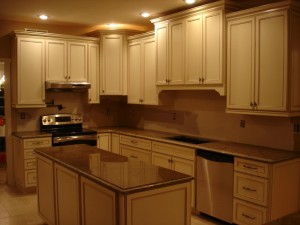 ---
Custom Search
---